Collectors section / General Catalogue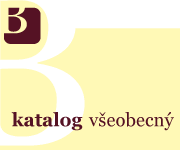 Dear clients,
We would like to present You our large on-line catalogue!
General catologue is free to access to registered clients after login. You can find here a valuable information about market prices of lots and items. You can be able to gather all information about starting and realized prices. It could be very helpful for Your buying strategy.
Czechoslovakian philately and postal history are mostly represented but You can find other connecting collecting branches whit lot of lots. Our General catalogue is continuosly updated!

About General catalogue:
it contains over 50 000 lots and items from our auctions since 2005 or from our e-Shop. Material is well cathegorized with starting and realized prices!
most of lots are with high resolution images. General catalogue contains over 90 000 images in high quality!
the whole application is over 50 GB large
We wish You comfortable listing in our General catalogue to gather all wanted information.

If any notes or comments please contact us! Thank You!




This part of website is only accessible for registered and logged-in users.

For access please login into your MyPlace.
Login
:: © Burda Auction, s.r.o (Filatelie Burda) - Pořádání aukcí, prodej a nákup filatelistického a dalšího sběratelského materiálu (Filatelie, Poštovní známky, Celiny, Celistvosti, Dopisy, Filokratie, Pohlednice a dalších) ::