News / Mail Auction #31
Number of views: 684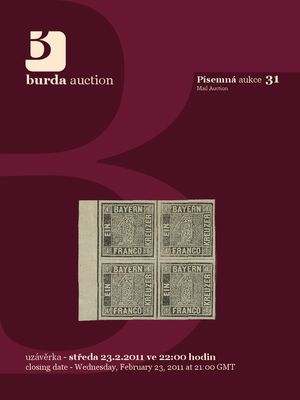 Current Mail Auction #31 of Burda Auction, Ltd., has the closing on Wednesday, FEB 23, 2011, at 21:00-GMT (22:00-CET).
The last updating of live results will be shown on the web at 09:00-GMT (10:00-CET).
You can send your bid from internet interface, by email or fax (Czech Rep. +420 511 120 033).
On Thursday, FEB 24, we will display score sheet and invoices for registered clients on the web. Then the final sale of unsold lots will start.
You can also buy in our i-Shop for fixed prices. We will join your i-Shop and Auction for only one postal charge.
Back to news