warning
This auction is archived, you cannot bid or buy items from this auction!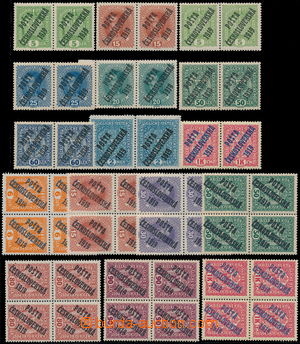 Pof.34ST-48ST, Coat of arms, Charles and Crown 5h-2K, selection of various joined overprint types, contains 9 pairs, from that 1x Pof.40STB - joined subtype with normal type, exp. by Karasek., Fischmeister + 7 bloks of four, from them Pof.43 with light overprint offset on gum; only 1 stamp hinged
U:A5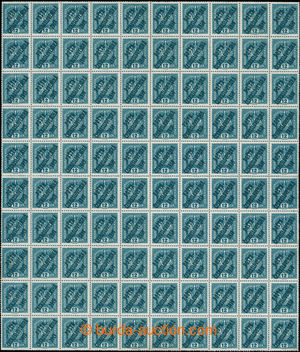 Pof.37 ST A+B+C+D, Crown 12h green-blue, complete sheet of 100 stamps with scarce joined overprint subtypes of numeral "9", plate 2, pos. 50 subtype IIa, pos. 60 subtype Ia, pos. 90 and 100 subtypes IIa; very fine, centered overprint on all positions sheet, cross fold, in margins of horiz. perf slightly underlaid (i.a. pos. 50 and 60), certificate Vrba + Karásek, exp. by Karasek., Vrba, cat. only for joined types IIa+Ia * / IIa+IIa ** cat. Pofis 250.000CZK, cat. Merkur-Revue 380.000CZK, of of the greatest multiple, unique, extremely scarce!
U:A3v–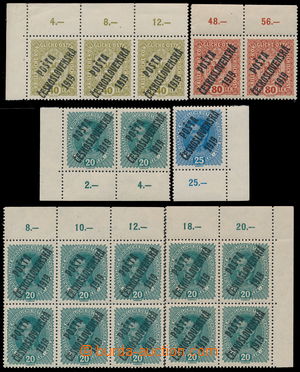 Pof.39, 40, 42 and 45, set of 13 staps with upper or lower margins and control-numbers, mostly corner or marginal multiples; sought by specialists
U:A5