warning
This auction is archived, you cannot bid or buy items from this auction!

info
Public Auction 60
is currently running, you can find items like this there and bid on them!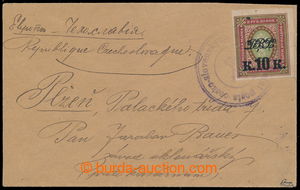 1920 RUSSIA/ envelope sent from Vladivostok to Plzen, franked with overprint imperforated stamp, local issue for Vladivostok 10k/3.50R, Mi.16B with violet round cancel. "POLNI POSTA CESKO-SLOVENSKYCH VOJSK NA RUSI" used by Czechosl. Cosulate in Vladivostok; good condition, exp. by Karasek., Pitt, rare letter!
U:A5