warning
This auction is archived, you cannot bid or buy items from this auction!

info
Public Auction 70
is currently running, you can find items like this there and bid on them!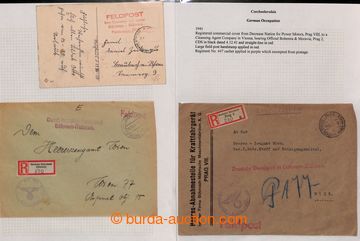 1939-1945 [COLLECTIONS] NĚMECKÁ FIELD A OFFICIAL POST / collection more than 130 pcs of entires with postmarks German Dienstpost in/at Protectorate - various also mimopražská postmark, doplňková line cancel., 5 pcs of Reg letter, etc.., supplemented with about/by correspondence German field post - mainly from period of occupation borderland and consequently vnitrozemí, German units put on/for our territory, correspondence from front addressed to to Bohemia-Moravia and Sudetenland, from that 5x as Registered letter, 1x SS Feldpost (Field-Post) etc.., larger part placed on free album sheets with descriptions; various quality, estate from abroad!
Starting price:
5 000
CZK
+

40,0 %
U:K