navigate_before
navigate_next
Last update of current results of Public Auction 62 was made at 10.00 CET.

CLOSING DATE FOR ABSENTEE BIDS AND REGISTRATION FOR ONLINE LIVE BIDDING:
FRIDAY, FEBRUARY 28 AT 21:00 CET.

V nadcházející Aukci 62 nabídneme řadu unikátních a jen zcela ojediněle se na trhu objevujících se položek Československa 1918-1939.

Dražba položek ČSR I. bude probíhat v neděli, 1. března od 09:00 hodin.
Pre-sale viewings will be conducted in our auction house:
MONDAY - THURSDAY, FEBRUARY 24-27 / from 09:00 - 17:00 hrs.

ABSENTEE BIDS DEADLINE: FRIDAY, FEBRUARY 28 at 21:00 CET.

PLEASE NOTE: PayPal payments are no longer accepted.

A great selection of unique proofs from period of Bohemia and Moravia will be offered on Sunday, March 1 afternoon.

Public Auction 62 will offer a various range of classic stamps, types, long sets and specialties of Europe, British Empire and Commonwealth and other overseas countries.
Dear philatelic friends,
we introduce our upcoming 2-day long Spring Public Auction 62.

The sale will be held on Saturday and Sunday, FEBRUARY 29 and MARCH 1 in our auction house in Prague.
An extremely scarce trial print of the refused design for the first Slovak stamp Hlinka 50h in brown color. This elusive item will be offered as lot nr. 3276 in our upcoming Public Auction 62.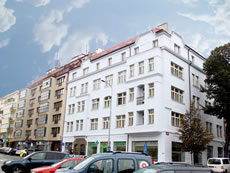 History
Burda Auction is the international auction house with more than 20 years of experience which has developed over the time into the Czech´s leading auction house for rare stamps and postal history. Every year, three or four major international auctions are held in its own auction room in the capital city of Prague. With an annual auction turnover of more than 2 million Euro, Burda Auction is the largest stamp auction house in the Czech Republic and important player on the Central Europe philatelic market.