navigate_before
navigate_next
Upcoming 1-day long November Public Auction 67 will be held on Saturday NOVEMBER 20, 2021 at 8:30 AM in our auction house in Prague.

With
BURDA|LIVE BIDDING
app you can bid live online via Internet as if you were personally attending the sale in our auction room.
Our advanced reliable application enables to bid you from all mobile devices.
To bid live please
register
on our website and then
register
for live bidding.
You can try the app as
Simulator.
Letošní druhé dvoudenní Aukce 66 se zúčastnilo přes 1.000 klientů (dražících přes internet, písemně či na sále). Celková prodejnost přesáhla 83%, u položek ČSR I. překonala hranici 97%! S dosaženým obratem 17,6 mil. Kč se tato aukce zařadila k těm nejúspěšnějším v celé historii firmy. Celý článek zde.
Vysoké neupotřebené koloniální nominály jsou mezi sběrateli a investory značně oblíbené, v katalogu rychle rostoucí a dosahují vysokých tržních cen. Jsme potěšeni, že v nadcházející Aukci 66 můžeme nabídnout jako los 960 "čistý" 100 dolar Straits Settlements z roku 1910 s katalogovou cenou Stanley Gibbons 22.000 liber. Více informací v článku zde.

Aktualizace: tato známka byla v Aukci 66 vydražena za 500.000 Kč.
V odpolední části sobotního aukčního dne nabídneme zajímavé a hledané speciality poválečného Československa, mj. vzácný zkusmý tisk nevydaného aršíku Ludvík Svoboda 10 Kčs se standartou.

Pod číslem 1970 nabídneme v nadcházející aukci hledanou celistvost vyfrankovanou známkami Źilinského vydání. Jedná se o teprve 8 známý kus těchto celistvostí zasílaných ze Žiliny Jóžou Dvořákem.
Highlightem nedělní dopolední části Aukce 66 bude dražba vodorovného čtyřznámkového meziarší hodnoty 20h modrozelená - los 2076.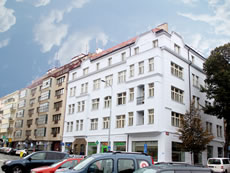 History
Burda Auction is the international auction house with more than 20 years of experience which has developed over the time into the Czech´s leading auction house for rare stamps and postal history. Every year, three or four major international auctions are held in its own auction room in the capital city of Prague. With an annual auction turnover of more than 2 million Euro, Burda Auction is the largest stamp auction house in the Czech Republic and important player on the Central Europe philatelic market.