navigate_before
navigate_next
We introduce our upcoming online November Auction 64 will be held on Saturday 28 from 08:30 CET.

Due to the COVID-19 crises the Auction 64 will be conducted ONLINE in auction house with the presence of auction agents.

Closing date for absentee bids and registration for online live bidding is FRIDAY, NOVEMBER 27 at 21:00 CET.

Položky prvorepublikového
Československa
se budou dražit v sobotu 28. listopadu od cca 11 hodin dopoledne.
Pre-sale viewings will be conducted in our auction house:
MONDAY - THURSDAY, NOVEMBER 23-26 / from 09:00 - 17:00 hrs.

PRIOR APPOINTMENT IS REQUIRED!

PLEASE NOTE: PayPal payments are no longer accepted.

V rámci Aukce 64 nabídneme jako losy
1711 - 1796
druhou část položek ČSR II. z exponátu německého sběratele Georga Wilhelmse.
Katalog Biennale 2020, jehož konání v Národním muzeu se předpokládá v lednu 2021, je co do obsahu, zpracování a designu unikátní publikací.
Po deseti letech vychází nová specializovaná monografie a katalog 1. emise Rakouska zpracovaná kolektivem autorů: Jan Pelikán, Břetislav Pour a Pavel Hirš.
Cena katalogu včetně poštovného a balného činí 588 Kč. Objednávat jej lze emailem na adrese filatelie.pelikan@email.cz.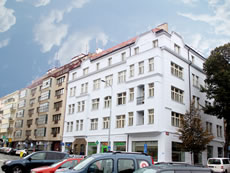 History
Burda Auction is the international auction house with more than 20 years of experience which has developed over the time into the Czech´s leading auction house for rare stamps and postal history. Every year, three or four major international auctions are held in its own auction room in the capital city of Prague. With an annual auction turnover of more than 2 million Euro, Burda Auction is the largest stamp auction house in the Czech Republic and important player on the Central Europe philatelic market.