Knowledge base / Monitoring of Lots
Number of views: 4208
Question: Your auction contains hundreds of lots, but I´m interested in only few of them. Unfortunately, this lots have very different auction numbers and constant listing between them is quite disturbing? Can You help me?

Answer: Yes. Please use our special function Monitor, which enable you to built up your "own catalogue" composed only from lots and items you are interested in.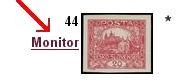 Registered clients can use after login the service - monitoring of selected lots. During browsing of the on-line catalogue click to link Monitor in description of lots.
You will compile your own catalogue which you can find on your Myplace.
Back to Using our website