News / AUCTION 64 THIS SATURDAY, NOVEMBER 28
Number of views: 2283
We introduce our upcoming online November Auction 64 will be held on Saturday 28 from 08:30 CET.

Due to the COVID-19 crises the Auction 64 will be conducted ONLINE in auction house with the presence of auction agents.

Closing date for absentee bids and registration for online live bidding is FRIDAY, NOVEMBER 27 at 21:00 CET.

Our upcoming "Online" Auction 64 will be held on Saturday, NOVEMBER 28. The auction comprises almost 2.400 rare and important lots, mainly stamps and postal history items, including singles, sets, collections and also some large bulk lots and accumulations.
The auction consists of the comprehensive selection of Europe with classic Austria, interesting Great Britain, Commonwealth and British Empire with wide range of complete sets, high values and specialities.
The sale also includes extensive selection of Czechoslovakia 1918-1939, 1945-1992 or Protectorate Bohemia and Moravia with many scarce lots.

Sincerely
Richard Burda and team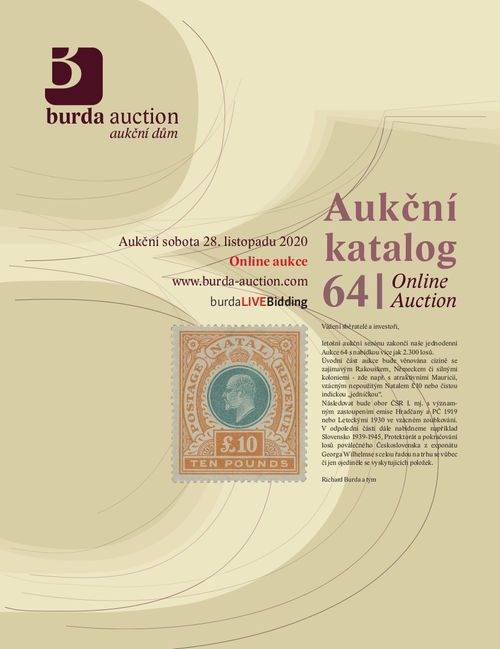 Catalogue for viewing in PDF format here.



ATTENTION:

Due to the COVID crises the Auction 64 will be conducted ONLINE in auction house
with the presence of auction agents.
Bidding options:
- online through our application BURDA|LIVE BIDDING
- absentee bids sent by e-mail or placed on our website or on philasearch.com
- bidding via the auction agents
- telephone bidding (prior reservation required)
Back to news