Online Auction 73
ONLINE AUCTION 73: NOVEMBER 25 AT 08:30 CET.

Dear philatelic friends,
our upcoming November Online Auction 73 starts on Saturday, November 25, 2023 at 08:30 CET on the internet. The auction comprises more than 2.600 rare and important lots, mainly stamps and postal history items, including singles, sets, collections and also some large bulk lots and accumulations.
The auction consists of the comprehensive selection of Europe and Overseas with strong Commonwealth and British Empire, Austria and old Italy with wide range of complete sets, high values and specialties. The sale also includes extensive selection of Czechoslovakia 1918-1939, 1945-1992 or Protectorate Bohemia and Moravia with many scarce lots. As part of our ongoing efforts to reduce our environmental impact we are trying to reduce the number of printed catalogues we produce.

How to participate in online auction:

1) live on the internet through our application burda|LIVE BIDDING

2) absentee bids sent directly through our website, by e-mail or Philasearch.com

Richard Burda and team Burda Auction


PDF catalogue HERE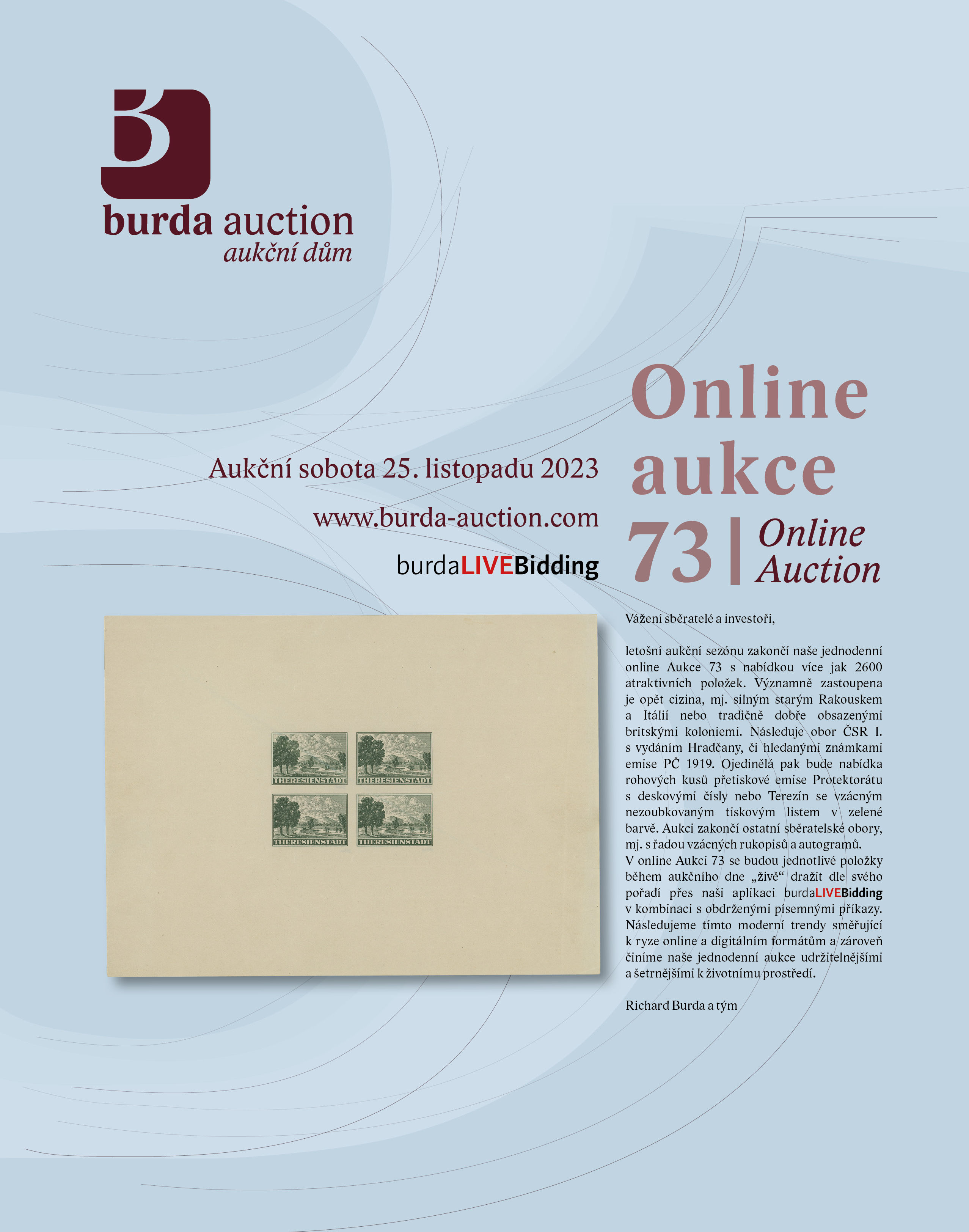 Auction Timetable
SATURDAY, NOVEMBER 25, 2023, start at 08:30 CET

AUCTION PLACE: Only on the Internet trough the application
Bidding options:
- online through our application BURDA|LIVE BIDDING
- absentee bids sent by emails or placed on our website

 
ABSENTEE BIDS AND REGISTRATION FOR LIVE BIDDING CLOSE - FRIDAY, NOVEMBER 24, 2023
21:00 CET - Deadline for absentee bids (website, email, Stamp Auction Network, Philasearch, Delcampe)

21:00 CET - Deadline for registration for live bidding - burda|LIVE BIDDING
Auction Day, SATURDAY, NOVEMBER 25, 2023
Part 1 - 09:00-13:00 CET: Lots 1-1112

Break 13:00-14:00 CET
Part 2 - 14:00-18:00 CET: Lots 1113-2649

VIEWING OF LOTS:
MONDAY NOVEMBER 20, 2023 - 09:00-17:00 Hrs

TUESDAY NOVEMBER 21, 2023 - 09:00-17:00 Hrs
WEDNESDAY NOVEMBER 22, 2023 - 09:00-17:00 Hrs

THURSADY NOVEMBER 23, 2023 - 09:00-17:00 Hrs

FRIDAY NOVEMBER 24, 2023 - AUCTION HOUSE CLOSED 

SATURDAY NOVEMBER 25, 2023 - AUCTION DAY  

We are notifying all of our clients that the buyer´s premium is 21% incl. VAT.

COLLECTION OF LOTS:
You can take with your winnig lots right after bidding or after the end of the auction.
PERSONAL PICK UP:

MONDAY-TUESDAY 27.-28. 11. - OFFICE CLOSED
WEDNEDSAY 29.11. 2023 : 09:00 - 17:00 Hrs
THURSDAY 30.11. 2023 : 09:00 - 17:00 Hrs
MONDAY-THURSDAY 4.12. - 7.12.: 09:00 - 17:00 Hrs

FRIDAY 1.12. and 8.12. 09:00 - 15:00 Hrs



PAYMENT OPTIONS
BANK TRANSFER | CZK only
Komerční banka, a.s., Czech Republic
Account No. 115-2290130207/0100
IBAN: CZ9101000001152290130207
BIC: KOMBCZPP
BANK TRANSFER | EUR only
ČSOB a.s., Slovakia
Account No. 4005609008/7500
IBAN: SK6675000000004005609008
BIC: CEKOSKBX
ONLINE PAYMENT BY CARD | EUR, USD
We do not accept online credit card payments from EU residents.
Credit Cards issued outside the EU will be charged a transaction fee of 3,5 of the invoice total. VISA Business, MasterCard Business, Diners Club and Discover credit cards are not accepted.


CONSIGNMENTS
             AUCTION 74 - MARCH 2024                   

Consignments up to end of December 2023
            AUCTION 75 - SEPTEMEBR 2024            

Consignments up to end of June 2024