warning
This auction is archived, you cannot bid or buy items from this auction!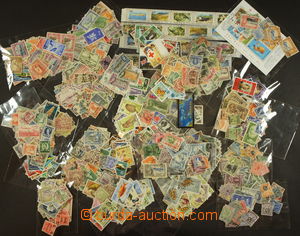 cca 1860-1970 [COLLECTIONS] ca. 1500 stamps, part of big estate, in paper bags and on covers, incl. better and full sets; strong Caribbean, Cape of Good hope, N.S. Wales "OS" in blocks, Silver Jubilee 48, motives and oths.; interesting offer suitable for resale, very low starting price!
U:K
Public auction 46 / Philately / Commonwealth, British Empire (Coll.) - Information
V této části naleznete poštovní známky, celiny a celistvosti z oblastí britského impéria. Zařazovány jsou zde převážně objemné sbírky a partie a také sběratelsky oblíbená všeobecná vydání jednotlivých kolonií, tzv. "omnibusy" jako Stříbrná svatba, Jubilejní 1935 apod.