warning
This auction is archived, you cannot bid or buy items from this auction!

info
Public Auction 60
is currently running, you can find items like this there and bid on them!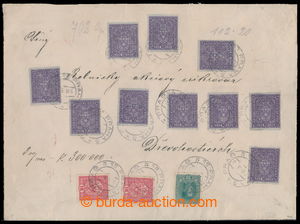 1918 commercial money letter for 300.000K (!) franked with 10x Coat of arms 10K, light violet, wide format (!) + 2x Coat of arms 1 K + 1x Charles 20h, CDS PRAGUE 5 / 9.XII.18; on reverse in the middle well preserved seal, overall very good condition, certificate and exp. Vrba, extremely rare entire, definetely exhibit item!
U:DR