warning
This auction is archived, you cannot bid or buy items from this auction!

info
Public Auction 60
is currently running, you can find items like this there and bid on them!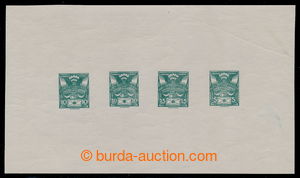 PLATE PROOF joined printing of values 10+20+25+5h in green color on stamp paper with gum; larger size, right at top fold in paper, illustrated in Monograph No.2, page 261, image 461, exp. Vrba
U:A5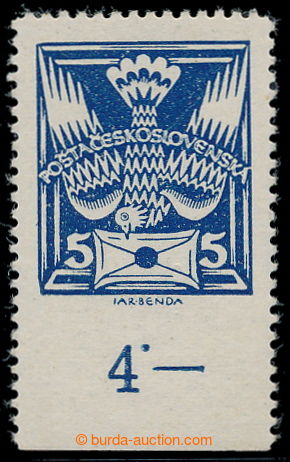 Pof.143B, 5h blue with lower margin with control-number and with omitted bottom horiz. perforation 13¾; mint never hinged, certificate Vrba, exp. by Mrnak., Gilbert, Vrba, cat. 18.000Kč+, decorative piece in very nice quality!
U:A5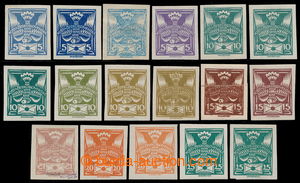 Pof.143N-149N, 5h blue - 25h green, complete set of IMPERFORATES, i.a. 20h orange types I + II, 25h green types I + II, also 2x 5h light and dark blue, 1x 5h blue with offset on gum, also shades of 10h green (3x), 10h brown (1x double impression) etc.; interesting selection, mainly hinged, exp. by Gilbert., Mrňák, Karasek, cat. * 8.130CZK
U:A5