warning
This auction is archived, you cannot bid or buy items from this auction!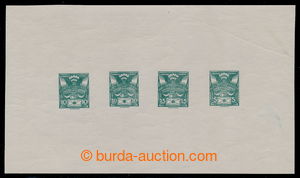 PLATE PROOF joined printing of values 10+20+25+5h in green color on stamp paper with gum; larger size, right at top fold in paper, illustrated in Monograph No.2, page 261, image 461, exp. Vrba
U:A5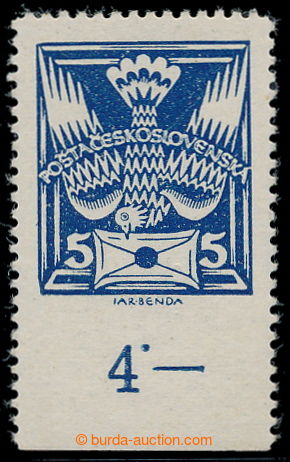 Pof.143B, 5h blue with lower margin with control-number and with omitted bottom horiz. perforation 13¾; mint never hinged, certificate Vrba, exp. by Mrnak., Gilbert, Vrba, cat. 18.000Kč+, decorative piece in very nice quality!
U:A5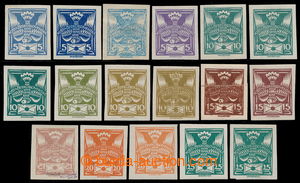 Pof.143N-149N, 5h blue - 25h green, complete set of IMPERFORATES, i.a. 20h orange types I + II, 25h green types I + II, also 2x 5h light and dark blue, 1x 5h blue with offset on gum, also shades of 10h green (3x), 10h brown (1x double impression) etc.; interesting selection, mainly hinged, exp. by Gilbert., Mrňák, Karasek, cat. * 8.130CZK
U:A5