Podle zákona o evidenci tržeb je prodávající povinen vystavit kupujícímu účtenku. Zároveň je povinen zaevidovat přijatou tržbu u správce daně on-line; v případě technického výpadku pak nejpozději do 48 hodin.
Prague
Auction House
Address
Burda Auction, s.r.o.
Dejvická 306/9
160 00 Praha 6
Czech Republic, EU
Opening hours
CONSIGNMENTS (advanced appointment required) - EACH MONDAY AND WEDNESDAY 9-12 / 13-17 (3rd floor) If you travel by car you may use parking place at Václavkova Street (200m from Auction House)


Contact details
Tel.: +420 233 313 654
Tel.: +420 777 466 790
E-mail: info@burda-auction.com

How to reach us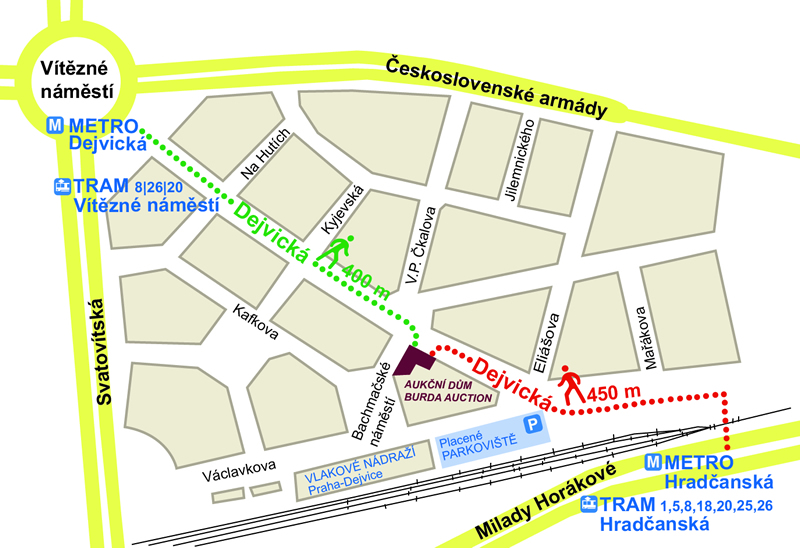 By car
Parking available at Parking place Hradčanská.


How to get us by walking
Burda Auction s.r.o. office geographical coordinates (GPS):
Loc: 50°05'53.4"N 14°23'59.8"E
Loc: 50.098163, 14.399952


:: © Burda Auction, s.r.o (Filatelie Burda) - Pořádání aukcí, prodej a nákup filatelistického a dalšího sběratelského materiálu (Filatelie, Poštovní známky, Celiny, Celistvosti, Dopisy, Filokratie, Pohlednice a dalších) ::