warning
This auction is archived, you cannot bid or buy items from this auction!

info
Online Auction 65
is currently running, you can find items like this there and bid on them!


1918 comp. 9 pcs of Hungarian stamp. with overprint, Mi.12, 2x 17, 20, 2x 22, 2x 24, 25. Neověřeno. High catalogue.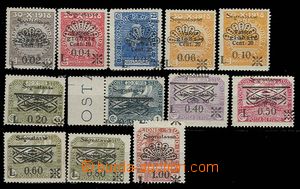 1921 Mi.15-26, set postage-due stamps with overprint, hinged, Mi.24 without gum and stain