warning
This auction is archived, you cannot bid or buy items from this auction!

info
Online Auction 65
is currently running, you can find items like this there and bid on them!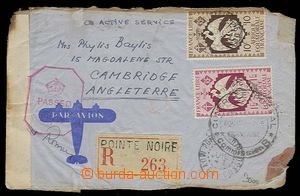 1943
AFRIQUE EQUATORIALE FRANCAISE Reg and airmail letter to England, with 1+10F, CDS Pointe Noire/ 7.JUIL 43 + postmark post. control AEF + censor English. postmark, open and sticked up, on reverse transit. Registered/ 16JY 43/ Lagos, Nigeria, double-line cancel. DAMAGED BY/ FIRE IN TRANSPORT, envelope from all sides ohořelá, letter inside, extraordinary.