warning
This auction is archived, you cannot bid or buy items from this auction!

info
Public Auction 67
is currently running, you can find items like this there and bid on them!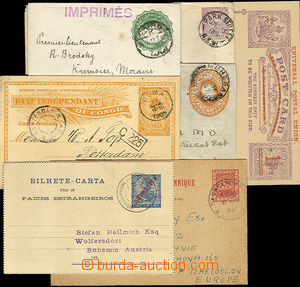 1896-1947
OVERSEAS comp. 9 pcs of p.stat, contains PC Congo 1905, envelope N.S.W. 1896, envelope Tanganyika 1947, envelope Egypt 1913, PC Brit. Guiana 1920, letter-card Portuguese Azores 1932, PC Victoria clear, all good condition
U:A5
Mail Auction 14 / Philately / Worldwide Accumulations - Information
V této části naleznete poštovní známky, celiny a celistvosti z celého světa. Zařazovány jsou zde převážně objemné sbírky a partie.