warning
This auction is archived, you cannot bid or buy items from this auction!


1939 Pof.OT1 overprint GD-OT, whole 100-stamps sheet with gum, stamps with CDS Prague 65/ 13.IV.41, plate number 2-39, termination protective frame lichoběžníkem, good condition
U:A5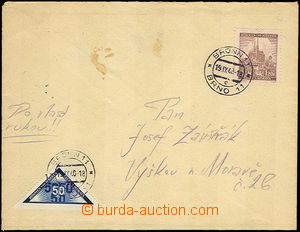 1940 Delivery stmp, letter to own by hand, with 1,20 Koruna, Pof.43 and blue delivery stamp. Pof.DR1, CDS Brno 11/ 19.IX.40; two stains on face-side envelope/-s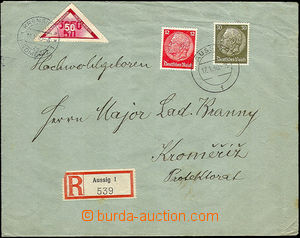 1940
Reg letter from Sudetenland to Kroměříž with chosen fee/charge after/behind delivery, mounted red delivery stamp. Pof.DR2 with CDS Kroměříž 18.I.40, CDS Aussig 17.1.40, good condition
Mail Auction 15 / Philately / German occupation of Bohemia-Moravia / OT, Delivery Stamps - Information
Poštovní známky pro obchodní tiskopisy
1.12. 1939 Přetisk GD - OT
Pro tuto poštovní známku byly použita novinová známka 10h I. vydání, Pof.NV5, a opatřena černým knihtiskovým přetiskem GD - OT. Přepážkový arch PA 10x10 známkových polí, vydáno bez perforace.
Platnost do 31.7. 1941
Poštovní doruční známky
1.12. 1939 Doruční
Poštovní známky emise doruční byly vydány v trojúhelníkovém tvaru dle návrhu A. Erhardta. Tištěno hlubotiskem HT. Emise byla vydána ve dvou hodnotách 50h v modré (výplatní) a červené barvě (doplatní). Přepážkové archy PA 10x5 polí, v každém poli dvojice trojúhelníkových známek v protisměrném uspořádání, celkem 100 známek. Hřebenová perforace HZ 13 3/4 postupuje souběžně s delší stranou PA.
Výplatní (modrou) doruční známku na zásilku vylepoval odesílatel, jako příplatek, pokud požadoval, aby zásilka byla doručena výhradně do rukou adresáta.
Doplatní (červenou) doruční známku na zásilku vylepoval a razítkoval doručovací poštovní úřad, pokud adresát požadoval, aby mu zásilky adresované na něj byly doručovány výhradně do vlastních rukou.
Od 1.10. 1940 byl příplatek za vyloučení náhradního doručení zvýšen na 1K a celistvosti byly opatřovány dvěma známkami příslušného druhu.
Platnost do 19.4. 1941 (dle Poštovního věstníku byly vzaty z prodeje 1.8. 1941)