warning
This auction is archived, you cannot bid or buy items from this auction!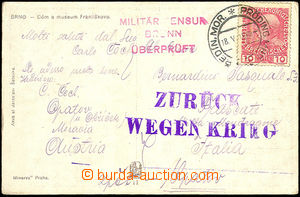 1915
1915 "transportation stoped" - ZURÜCK / WEGEN KRIG, violet cnl. on PPC sent to Italy from Předín, Mor./ 18.V.15, in addition red censor cnl Militër cenzur/ Brünn/ Überprüft, very interesting document of postal transportation during the war. Very nice.
U:A5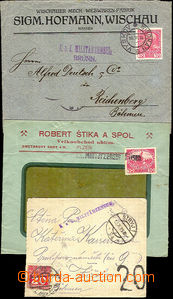 1915 - 16 CENSORSHIP comp. 3 pcs of letters with censored postmarks: Brünn + CDS Vyškov , Pilsen without CDS, Stryj + CDS + postage due. good condition.
U:A5