warning
This auction is archived, you cannot bid or buy items from this auction!

info
Public Auction 66
is currently running, you can find items like this there and bid on them!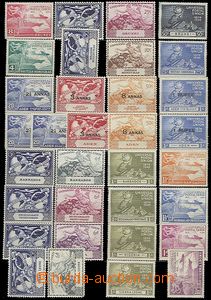 1949 COLONIES comp. of 8 sets issue UPU from countries BRUNEI, BRITISH HONDURAS, ADEN/ KATHERI, ADEN, BARBADOS, BECHUANALAND PROTECTORATE, NIGERIA and SIERRA LEONE, 3x hinged, 1x light stain, c.v.. ca. 40€
U:A4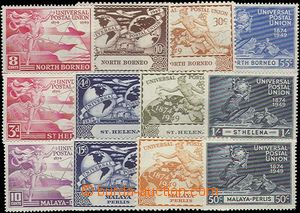 1949 NORTH BORNEO Mi.273-76, PERLIS Mi.3-6, ST. HELENA Mi.115-18, 3x complete set UPU
U:A5
Mail Auction 18 / Philately / Worldwide Accumulations - Information
V této části naleznete poštovní známky, celiny a celistvosti z celého světa. Zařazovány jsou zde převážně objemné sbírky a partie.