warning
This auction is archived, you cannot bid or buy items from this auction!

info
Public Auction 69
is currently running, you can find items like this there and bid on them!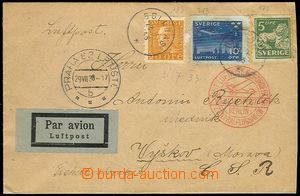 1933 airmail letter to Czechoslovakia, with Mi.175, 183 and 213, cachet Lufthansa and arrival cancel. PRAGUE (wrong nastaveno date of printing in/at cancel on/for 1938) on/for front face letter, on the reverse side cancel. mezipřistání and cílové post VYŠKOV, good condition
U:A5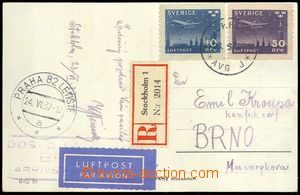 1937
Reg and airmail postcard to Czechoslovakia, franked with. air stamp. Mi.213-214, CDS STOCKHOLM/ 23.6.37, transit pmk PRAGUE 82-Airport/ 24.VI.37 and arrival framed pmk Came By Air / Brno 2; decorative!
U:A5