warning
This auction is archived, you cannot bid or buy items from this auction!

info
Public Auction 66
is currently running, you can find items like this there and bid on them!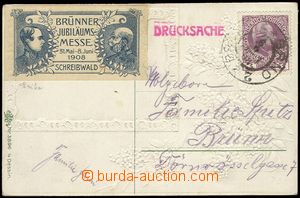 1908
postcard sent after/around Brno as printed matter, on/for L side advertising label Brno anniv. market 1908 - Pisárky, decorative, good condition
U:A5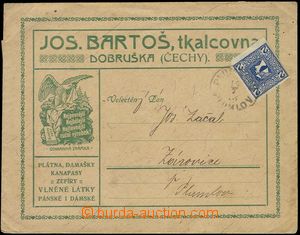 1913 letter with additional-printing firm Joseph Bartoš, Dobruška, sent as printed matter, franked with. newspaper stamp. Mi.157, CDS PLUMLOV 14/7/13, inside Un response card, nice
U:A5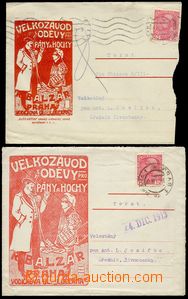 1914
2 pcs of various envelopes with red decorative additional-printing oděvní firm Balzar Prague, incl. content, 1x unprofessionally open.
U:A5