warning
This auction is archived, you cannot bid or buy items from this auction!

info
Public Auction 70
is currently running, you can find items like this there and bid on them!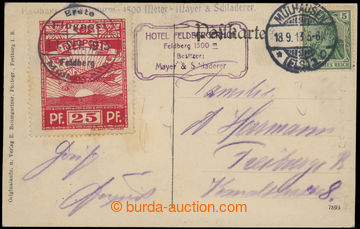 1913
special flight "MÜHLHAUSEN-FELDBERG-MÜHLHAUSEN", postcard addressed to Freiburg, paid with stamp 5Pf Germania, CDS MÜHLHAUSEN 18.9.13 + HALBAMTLICHE FLUGMARKEN / Mi.10, 25Pfg lilarot issued for this flight, with whole cancel. ERSTE FLUGPOST/ FELDBERG MÜHLHAUSEN/ 11.SEP.1913; good condition, very rare airmail entire!
Starting price:
10 000
CZK
+

10,0 %
U:A5