warning
This auction is archived, you cannot bid or buy items from this auction!

info
Public Auction 71
is currently running, you can find items like this there and bid on them!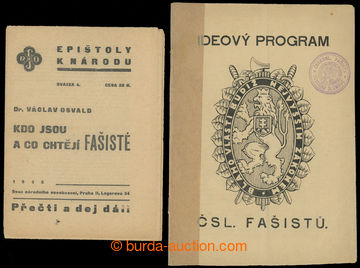 1925-1938 Czechoslovakia / ČESKOSLOVENSKÝ FAŠISMUS comp. of 5 contemporary documents in relation to Czechosl. fašistům, "Ideový program Czechosl. fašistů" from year 1925 with violet round cancel. Czechoslovak fašisté/ odbočka Olomouc, "Projev" from congress Czechosl. fašistů, "Fašisté dělníkům" - flyer Dělnické fascistic branch, "Who are and what chtějí fašisté" 1932 and flyer with calling "Občané!" from Gen. R. Gajdy; only folds, rare
Starting price:
1 000
CZK
+

180,0 %
U:A4
Online Auction 64 / Historical Documents, Maps - Information
Historické dokumenty a mapy
Do této kategorie řadíme mimo mapy také historické dokumenty jako různé zakládací listiny, vyhlášky a nařízení ve formě plakátů, letáky atd.