warning
This auction is archived, you cannot bid or buy items from this auction!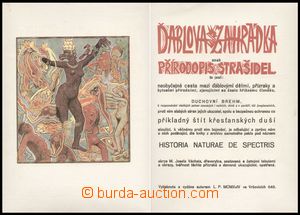 1924
BIBLIOPHILE EDITION Josef VÁCHAL: Ďáblova zahrádka aneb přírodopis strašidel (Devil's Garden), within self-publishing, the original 16th copy for painter Rudolf Bém (of total 17 pcs) with handwriting dedication of author, 307 sides on hand-made paper, contains 69 color xylographs and 137 black xylographs; after the print was xylograph matrices destroyed (!); free sheets of format 33x43cm; luxury condition, doesn't offered in the Czech market yet, quite rare, pearl of bibliophily!!
ATTENTION !!! - this item will be bidded in the end of the morning block ca. at 10.20 G.M.T.
U:K