warning
This auction is archived, you cannot bid or buy items from this auction!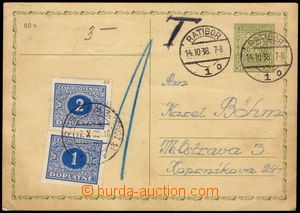 1938 CDV65, State Coat of Arms 50h, to Märisch-Ostrau, CDS RATIBOR (today Racibórz, Poland)/ 14.10.38, disallowed, burdened with postage-due 3CZK, CDS MOR. OSTRAVA - PŘÍVOZ/ 22.X.38, exceedingly interesting
U:A5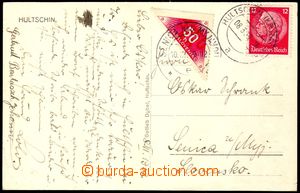 1939 HLUČÍN REGION postcard to Czechoslovakia franked with. German postage stmp Hindenburg 12(Pf), CDS HULTSCHIN/ 8.3.39, at the delivery place mounted Delivery stamp Pof.DR2, CDS SENICA N. MYJAVOU/10.III.39, exceedingly interesting!
U:A5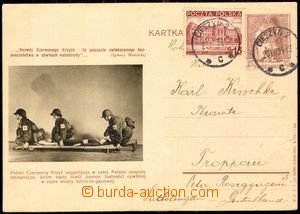 1939 Polish pictorial PC Mi.P85 uprated with stamp Mi.317, CDS CIESZYN 2/ 23.IV.39 to Opava, torn in upper margin
U:A5
Public Auction 28 / Philately / Occupations - Information
V této kategorii zařazujeme položky poštovní historie z období 1938 a dělíme jej na Německý zábor - Sudety, Polský zábor a Maďarský zábor na Slovensku.