warning
This auction is archived, you cannot bid or buy items from this auction!

info
Public Auction 59
is currently running, you can find items like this there and bid on them!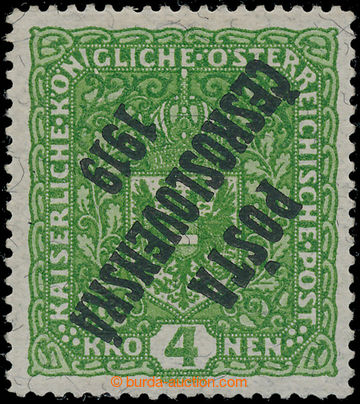 THE RAREST CZECHOSLOVAK STAMP / Pof.50b FP, Coat of arms 4 K light green on GRANITE PAPER WITH INVERTED BLACK OVEPRINT POŠTA ČESKOSLOVENSKÁ 1919; wide format, excellent centering, overprint type II; superb piece with original gum, lightly hinged, cat. by estimation 7.000.000 CZK, certificates Vrba 2017, Gilbert, Karásek, Pittermann + copy of certificate František Beneš 1992, exp. Šula, Mrňák, Tribuna and Lešetický; THE RAREST AND MOST VALUABLE CZECHOSLOVAK STAMP, THE GEM OF WHOLE CZECHOSLOVAK PHILATELY, unique piece, the only one example recorded, in 1928 sold in public auction in Brno (famous auction Přehnálek for 31.900Kč), after 1945 placed in Postal museum in Prague, exhibited on world stamp shows PRAGA 1968, PRAGA 1978 and PRAGA 1988; in 1990´s bought by Mr. Ludvík Pytlíček as the most important acquisition of his magnificent collection of Czechoslovakia, after 90 years is this elusive and famous stamp in public offer!!!, GREAT EUROPEAN RARITY!
Starting price: 4 000 000
CZK
+

95,0 %
U:DR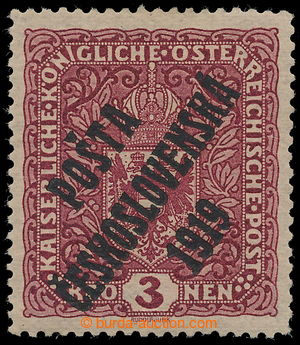 Pof.49aII, Coat of arms 3 K dark red, WIDE format, overprint type II.; lightly hinged, nice centered piece, certificates Vrba and Karásek, exp. by Karasek., Fischmeister, Lešetický, cat. Pofis 180.000CZK, Mercure 200.000CZK, very scarce stamp!
Starting price: 150 000
CZK
+

73,3 %
U:DR