warning
This auction is archived, you cannot bid or buy items from this auction!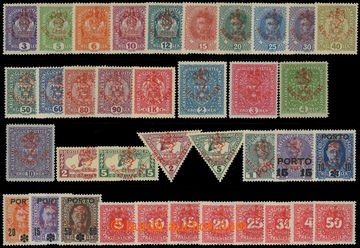 1918 Pof.RV43-65, RV71-84, Hluboka issue (Maršův overprint) in/at ČERVENÉ color, postage stmp Coat of arms, Crown and Charles 3h-1K, Large Emblem 2 Koruna, 3 Koruna granite, 4 Koruna, 10K light violet, then Express rectangle and triangle, Postage due stmp PORTO and Postage due stmp small numerals, missing only Newspaper stamps; mainly with light label, all exp. Vrba and Gilbert, sought
Starting price:
7 000
CZK
+

85,7 %
U:A5
Public Auction 60 / Philately / Czechoslovakia 1918-1939 / Revolutionary 1918 - Information
1918 Revoluční přetisky
Poštovní známky rakouského císařství a maďarského království s neúředními přetisky.