warning
This auction is archived, you cannot bid or buy items from this auction!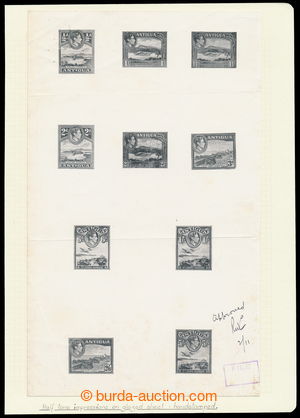 1938 PLATE PROOF for SG.98-107, George VI. "Landscape" 1/2P-5Sh, complete set 1938 (additional values 10Sh and £1 issued in 1948); in black color on smooth paper 145x245mm, with frame cancel. FILE and notice "approved , signature, 2.11."; ex. Waterlow archives!
Starting price:
15 000
CZK
U:A4
Public Auction 60 / Philately / America and Caribbean / Caribbean / Antigua - Information
V této kategorii naleznete poštovní známky, celistvosti a celiny s poštovní historií Antiguy. Ostrov leží v souostroví Malých Antil. Jako součást tzv. Závětrných ostrovů patří toto území pod britskou správu v rámci Commonwealthu.
První poštovní známky Antiguy vyšly v roce 1862. Známky Barbudy pak vycházejí od roku 1922.