warning
This auction is archived, you cannot bid or buy items from this auction!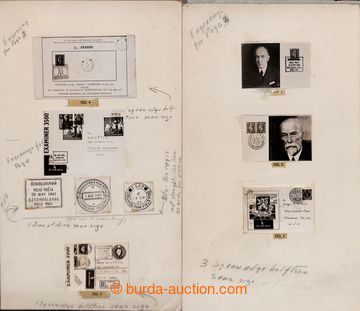 1943
Posuzovací předtiskové makety for print special commemorative sheets, envelopes and Ppc issued Czechoslovak army in Great Britain, 4 carton with mounted photos and anglickými descriptions probably A. (Dolfy) Bartošík (1907–1989), who was author graphic designes; good condition, makety documenting production advertising of material Czechosl. armies in England, quite rare offer!
Starting price:
8 000
CZK
U:A4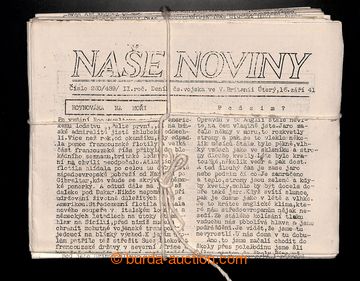 1940-1945
[COLLECTIONS] CZECHOSL. FIELD POST VE VELKÉ BRITÁNII big collection of entires and advertising materials on/for ca. 280 pcs of album sheets, contains lot of Us letters with FP-postmark., from that part as Registered, entires addressed to from and to USA, Palestine, Iran, South America etc.., lot of commemorative sheets with special postmark, original photo, advertising labels, postcard, souvenir sheets, envelope/-s, New Year card/-s, invitation-cards etc.., supplemented with 60 pcs of copies/imprints diary Czechosl. army in England "Our newspaper"; mainly good condition, estate from abroad, valuable collection, market price by estimation 30.000CZK!
Starting price:
15 000
CZK
+

93,3 %
U:K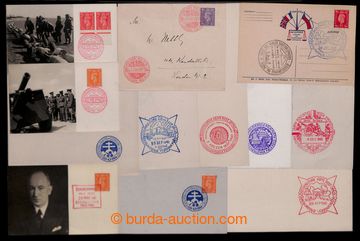 1940-1945 [COLLECTIONS] GREAT BRITAIN / FRANCE collection commemorative postmarks field post in France and England, contains 6 pcs of commemorative sheets and 4 pcs of first day sheets with row copy-print special postmark from France + 39 pcs of memorial/special double-sheets with 2-3 print special postmark field post in England, supplemented with 8 pcs of official commemorative sheets with special postmark i.a. also last sheet from 8. May 1945, then 11 pcs of Ppc and letters with special postmark and sheet with advertising labels; good condition
Starting price:
3 000
CZK
U:Z