warning
This auction is archived, you cannot bid or buy items from this auction!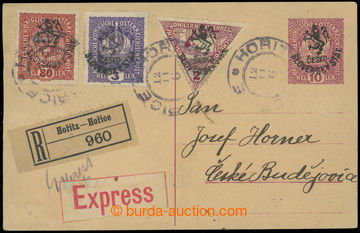 1918 Budějovice issue (Horner's overprint), CSV2, Austrian PC 10h Crown with Hornerovým overprint sent as Reg and Express, uprated with stamp 2h Express stamp triangle + 3h Crown + 80h Coat of arms, all with same overprint, CDS HOŘICE 12/11 19, arrival postmark BUDĚJOVICE on reverse, exact franking; on reverse hints after sticking, early usage Hornerových overprints
Starting price:
2 000
CZK
+

0,0 %
U:A5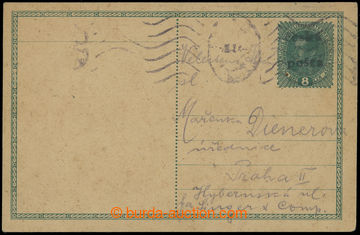 1918 Fontanův overprint, Austrian PC 8h Charles with 2-lines overprint "Czech/ post" (see Monograph No.1, page. 60-61) addressed to to Prague, posting MC PLZEŇ ? , on reverse obsáhlý text; good condition, Fontanův overprint on/for p.stat is rare, non-philatelic!
Starting price:
2 000
CZK
+

0,0 %
U:A5