warning
This auction is archived, you cannot bid or buy items from this auction!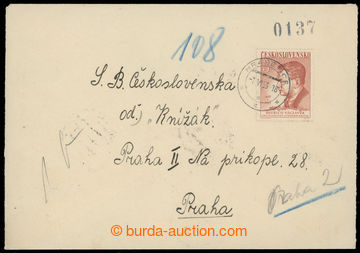 1953 1. DAY / letter franked according to rate platného to 31.5.53 stamp. Pof.713 in value 3Kčs, vhozený to post. box, CDS HRABĚTICE/ 1.VI.53-18, postal-charge 3Kčs was/were akceptováno, delivering post after all letter zatížila postage-due! Nové postal-charge 60 hellers (= 30Kčs in old currency, chybělo 27Kčs), postage due in 2-násobné value 54Kčs paid/franked Postage due stamp Pof.D75 (10x) + Pof.D77 (2x) mounted on reverse, CDS PRAGUE 1/ 3.VI.53; evidently reklamováno, through/over Postage due stamp cancel. "Invalidated" - light imprints; envelope open from 3 sides (internal instruction bank), nice, exp. Dražan
Starting price:
3 000
CZK
+

0,0 %
U:A5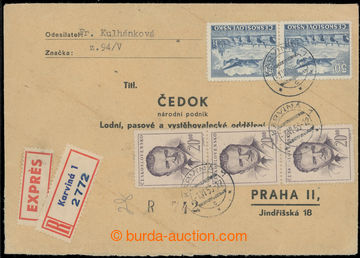 1953 1. DAY / commercial EX + Reg with Pof.489 (3x) + air Pof.L24 (2x), CDS KARVINÁ 1 / 1.VI.53, right value postage 160Kčs, on reverse arrival postmark TLG. TLG. ÚSTŘEDNA/ PRAHA/ 2.VI.53; non-philatelic, sound condition, exp. Dražan, Ex+R-dopisy from 1. of day are výjimečné!
Starting price:
6 000
CZK
+

0,0 %
U:A5