warning
This auction is archived, you cannot bid or buy items from this auction!


1920
CZL1 Us letter-card 20h incl. margins, uprated with stamp Hradčany 40h, Pof.14 to Austria insufficiently paid/franked - pozn."T" + 1,30, railway station mailbox pmk Protivín 23.10.20. On back side 4x Austrian Postage due stamp with CDS Wien. good condition.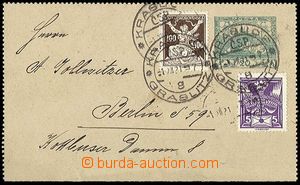 1921 CZL1 uprated by. to Germany, stamp. 100h + 5h, Pof.144, 158, without margins, CDS Kraslice 1.XII.21.
U:A5