warning
This auction is archived, you cannot bid or buy items from this auction!

info
Online Auction 64
is currently running, you can find items like this there and bid on them!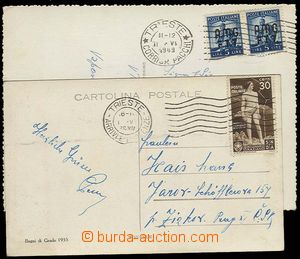 1936-49 TRIESTE 2 pcs of Ppc, 1x with Mi.549 with MC Trieste 1.V.36. 1x franked with. overprint stamp. zone/-s A Mi.2x 7 type I, MC Trieste 10.VII.49. Without damage.