warning
This auction is archived, you cannot bid or buy items from this auction!

info
Online Auction 65
is currently running, you can find items like this there and bid on them!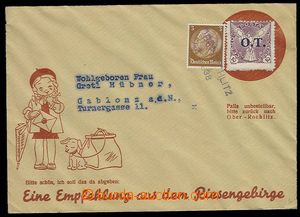 1938
advertising envelope with printings děvčátka with dog and inscription Eine Empfehlung aus dem Riesengebirge, franked with. German. stmp 3Pf Hindenburg and Czech OT 10h, line provisional postmark Ober Rochlitz/ 3.11.38, nice entire.
U:A5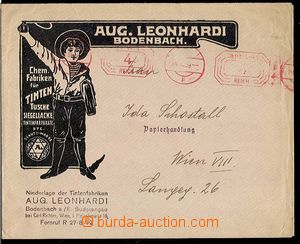 1939 advertising envelope f.. Aug. Leonhardi Bodenbach, factory for inkousty, tuže etc.., used after/around occupation Austria and Sudetenland branch in Vienna, franked with. print definitive. machine Deutsches Reich Wien/ 14.III.39, decorative, good condition.
U:A5