warning
This auction is archived, you cannot bid or buy items from this auction!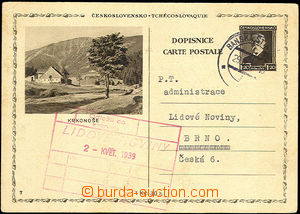 1939
CDV46/7 Czechosl. forerunner pictorial PC 1.20CZK Krkonoše addressed to to Bohemia-Moravia, CDS Bánská Štiavnica 29.IV.39, good condition, c.v.. 2000SKK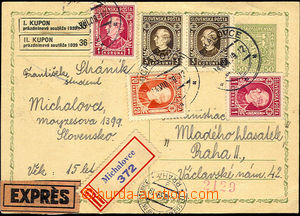 1938
CDV65 sent R+Ex from Michalovce 14.VIII.39 to Praha, franked with Zsf. 2x 32, 2x 30, 27, right postage, incoming cnl. Praha TGF 15.VIII.39, vent through pneumatic post system. excelent condition! RARE!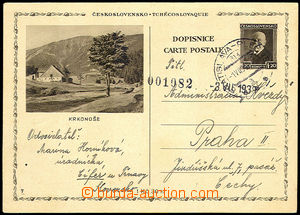 1939 CDV67/7 T. G. Masaryk 1,20CZK, to BOHEMIA-MORAVIA, postmark train post č.814a/ Bratislava - Plešivec/ 1.VII.39, good condition