warning
This auction is archived, you cannot bid or buy items from this auction!

info
Online Auction 65
is currently running, you can find items like this there and bid on them!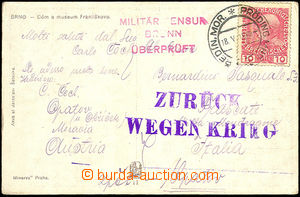 1915
1915 "transportation stoped" - ZURÜCK / WEGEN KRIG, violet cnl. on PPC sent to Italy from Předín, Mor./ 18.V.15, in addition red censor cnl Militër cenzur/ Brünn/ Überprüft, very interesting document of postal transportation during the war. Very nice.
U:A5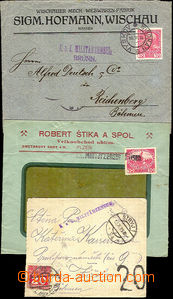 1915 - 16 CENSORSHIP comp. 3 pcs of letters with censored postmarks: Brünn + CDS Vyškov , Pilsen without CDS, Stryj + CDS + postage due. good condition.
U:A5