warning
This auction is archived, you cannot bid or buy items from this auction!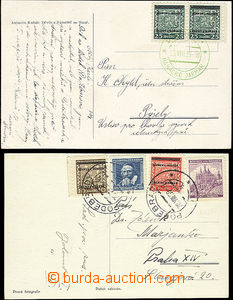 1939 2x postcard franked with. overprint stamp. various values Coat of arms, 1x mixed franking, 1x special postmark , good condition 1x smaller fold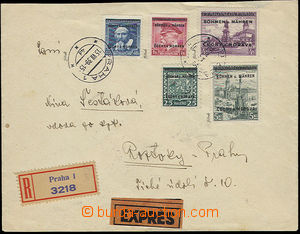 1939
First Day Cover, sent as registered express letter paid by overprint stamps Pof.18, 17, 10, 6, 4, daily postmark Praha 1/ 15.VII.39 (first day!), arrival postmark Roztoky u Prahy 16.VII.39 on the back side, tearing of the lapel, otherwise good, expert Gilbert
Mail Auction 16 / Philately / German occupation of Bohemia-Moravia / Overprint Issue - Information
15.7. 1939 Přetiskové provizorium - čs. poštovní známky s přetiskem Böhmen und Mähren
K přetištění byly použity čs. výplatní poštovní známky z let 1929 - 1939. K tisku byla využita zbylá zásoba, ale i pro tento účel dotisknuté známky z původních tiskových desek TD (nový náklad má barevné napichové body v rozích přepážkových archů). Tisk poštovních známek rotačním ocelotiskem OTr.
Černý třiřádkový přetisk je proveden hlubotiskem HT. Některé hodnoty byly přetiskovány v celých přepážkových arších, některé v tiskových arších TA. Je doloženo použití 16 přetiskových desek. Různá velikost přetiskovaných poštovních známek si vyžádala 5 druhů přetisku A - E.
Platnost přetiskové emise do 15.12. 1939