warning
This auction is archived, you cannot bid or buy items from this auction!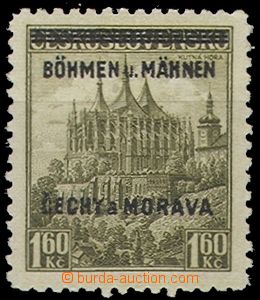 1939 Pof.13DV Kutná Hora with plate variety N place R, exp. Mrňák, smaller hinged, c.v.. 600CZK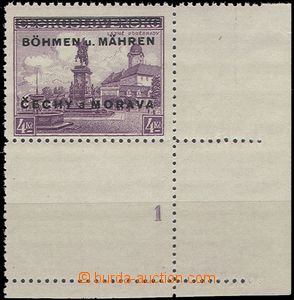 1939
Pof.17 KD, the bottom corner piece with coupon and plate number 1, mint never hinged, c.v.. 2400CZK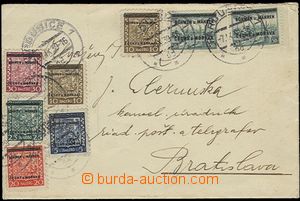 1939 letter to Slovakia franked with. 8 pcs of stamps overprint set (Coat of arms + Plzeň), right franking 2CZK, CDS Pardubice/ 7.IX.39, good condition
Mail Auction 17 / Philately / German occupation of Bohemia-Moravia / Overprint Issue - Information
15.7. 1939 Přetiskové provizorium - čs. poštovní známky s přetiskem Böhmen und Mähren
K přetištění byly použity čs. výplatní poštovní známky z let 1929 - 1939. K tisku byla využita zbylá zásoba, ale i pro tento účel dotisknuté známky z původních tiskových desek TD (nový náklad má barevné napichové body v rozích přepážkových archů). Tisk poštovních známek rotačním ocelotiskem OTr.
Černý třiřádkový přetisk je proveden hlubotiskem HT. Některé hodnoty byly přetiskovány v celých přepážkových arších, některé v tiskových arších TA. Je doloženo použití 16 přetiskových desek. Různá velikost přetiskovaných poštovních známek si vyžádala 5 druhů přetisku A - E.
Platnost přetiskové emise do 15.12. 1939