warning
This auction is archived, you cannot bid or buy items from this auction!

info
Public Auction 67
is currently running, you can find items like this there and bid on them!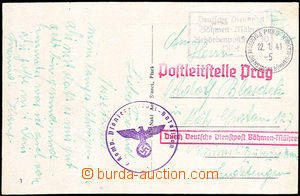 1941
postcard sent as Feldpost (Field-Post) through/over German Off. Mail with print frame postmark Postal Agency!! Deutsche Dienstpost Bohemia and Moravia / Behördenpostfreile 30/ Pisek, supplemented with CDS German Service post Bohemia and Moravia Prag b/ 22.1.45 + 2x red postmark official post and round military unit postmark, perfect condition, rare occurrence!
U:A5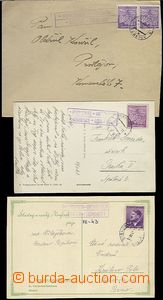 1942-43 comp. 3 pcs of entires with postal agency pmk HOŘENEC (ŠEBETOV), HRADEŠICE (MALÝ BOR), ŽĎÁRNÁ (BOSKOVICE), nice imprints