warning
This auction is archived, you cannot bid or buy items from this auction!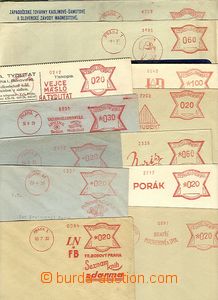 1929-39 comp. 13 pcs of letters with meter stmp, firm Porák Loučovice, Vacuum Oil Company Prague, Vejce, máslo, Tydlitat, Prague, Schubert Hrádek n./N., Dubský Loštice and oths., good quality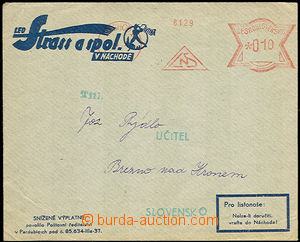 1938
commercial envelope sent as commercial printed matter paid/franked frankotype LSN (Leo Strass & Co in/at Náchod), value 10h with CDS Náchod 9.3.38, on envelope pre-printing permit "lowered výplatné..."(!), sought, good condition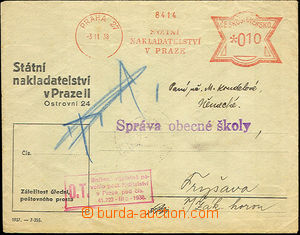 1938
předištěná envelope with frankotype Státního publ. in Prague with postage stmp value 10h, CDS Prague 27/ 3.11.38, supplemented with red framed pmk "O.T./ lowered postage allowed post. headquarters in/at Praze...", print nahrazující commercial printed matter, rare usage, sought!