warning
This auction is archived, you cannot bid or buy items from this auction!

info
Public Auction 67
is currently running, you can find items like this there and bid on them!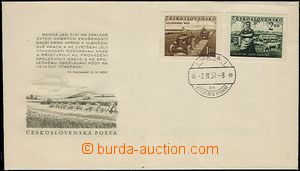 1951
FDC with stamps Pof.583-4 Agricultural Work, postmark of day issue with defective date 2.IV.51, on reverse hints of white adhesive pastě, otherwise well preserved, Monograph 2000CZK
U:A5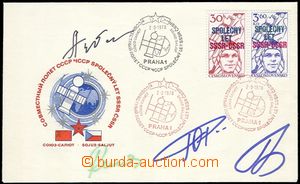 1978
FDC Common Space Flight Czechoslovakia–USSR, larger format with additional-printing, with Pof.2296-2297, supplemented with signatures astronauts Remek, Gubareva, Grečka and Romaněnka, c.v.. 2500CZK
U:A5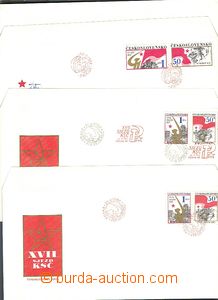 1986 3 pcs of ministerial FDC, 2x XVII. Congress of Communists with stamp. Pof.2736-37 with various red and gold postmarks, 1x 65. Anniv Communist Party of Czechoslovakia with stamp. Pof.2737-38 with red cancel., all in/at cover Czechosl. communications with basic row clear stamp.