warning
This auction is archived, you cannot bid or buy items from this auction!

info
Public Auction 69
is currently running, you can find items like this there and bid on them!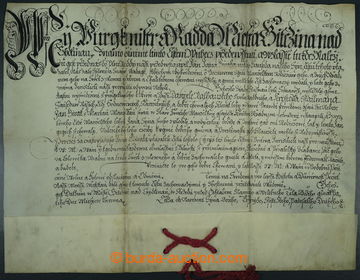 1652 ČESKÉ KRÁLOVSTVÍ / MĚSTO JIČÍN / parchment document issued městskou radou and purkmistrem town Jičín, it is certificate of řádném zplození měšťana John Jiráka from 5. June year 1652, so from period of následujícím after/around termination fights Třicetileté war; size 38x35cm, with plikou without seal, nice in good condition condition, very interesting, rare
Starting price:
9 000
CZK
+

44,4 %
U:A4
Online Auction 65 / Historical Documents, Maps - Information
Historické dokumenty a mapy
Do této kategorie řadíme mimo mapy také historické dokumenty jako různé zakládací listiny, vyhlášky a nařízení ve formě plakátů, letáky atd.