warning
This auction is archived, you cannot bid or buy items from this auction!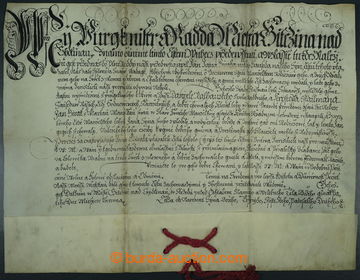 1652 ČESKÉ KRÁLOVSTVÍ / MĚSTO JIČÍN / parchment document issued městskou radou and purkmistrem town Jičín, it is certificate of řádném zplození měšťana John Jiráka from 5. June year 1652, so from period of následujícím after/around termination fights Třicetileté war; size 38x35cm, with plikou without seal, nice in good condition condition, very interesting, rare
Starting price:
9 000
CZK
+

44,4 %
U:A4
Online Auction 65 / Historical Documents, Maps - Information
Historické dokumenty a mapy
Do této kategorie řadíme mimo mapy také historické dokumenty jako různé zakládací listiny, vyhlášky a nařízení ve formě plakátů, letáky atd.