warning
This auction is archived, you cannot bid or buy items from this auction!

info
Public Auction 71
is currently running, you can find items like this there and bid on them!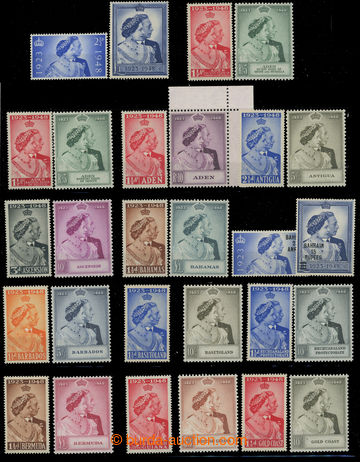 1948-1949
OMNIBUS / Silver Jubilee / Royal Silver Wedding; complete set 138 stamps, Aden - Zanzibar, part marginal pieces, rarest and nejobtížněji zkompletovatelný set from all Omnibus issue, very good quality, c.v.. £2.250, placed on cards A4, extraordinary offer!
Starting price:
38 000
CZK
+

0,0 %
U:DR
Public Auction 58 / Philately / Commonwealth, British Empire (Coll.) - Information
V této části naleznete poštovní známky, celiny a celistvosti z oblastí britského impéria. Zařazovány jsou zde převážně objemné sbírky a partie a také sběratelsky oblíbená všeobecná vydání jednotlivých kolonií, tzv. "omnibusy" jako Stříbrná svatba, Jubilejní 1935 apod.