warning
This auction is archived, you cannot bid or buy items from this auction!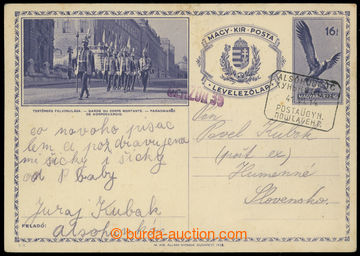 1941 CHOŇKOVCE / ALSÓHUNKÓC framed pmk Postal Agency with Hungary - rusínským text and date 41 VI.14., Gebauer. 2127/4, on/for Hungarian picture PC 16f sent to Humenného in Slovakia, red postmark Slovak censorship; good condition, superb print rare postmark Postal Agency zabrané maďarskem near/in/at occupation part/-s východního Slovakia, decorative piece, ex Kobelbauer
Starting price:
2 000
CZK
+

10,0 %
U:A5
Public Auction 60 / Philately / Occupations / Hungarian Occupation - Information
Po Mnichovské dohodě bylo 2. 11. 1938 dovršeno jednání mezi Česko-slovenskem a Německem o odstoupení jižních částí Slovenska a Podkarpatské Rusi hortyovskému Maďarsku - První vídeňská arbitráž.