warning
This auction is archived, you cannot bid or buy items from this auction!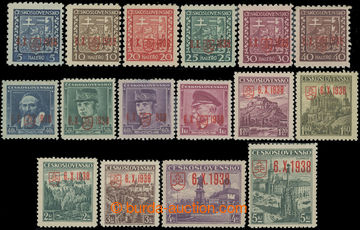 1938 BAZOVSKY'S OVERPRINT PLATE PROOF complete (!) line 16 pcs of proof print overprint "State Coat of Arms / 6.X.1938" on/for Czechosl. stamp. values 5h - 5CZK in red color; all with hint after sticking in upper margin stamp. - small thin places, marked only at value 60h, exp. Synek, c.v.. 1.620€, for the first time in auction complete set of hledaného Bazovského overprint!
Starting price:
15 000
CZK
+

20,0 %
U:A5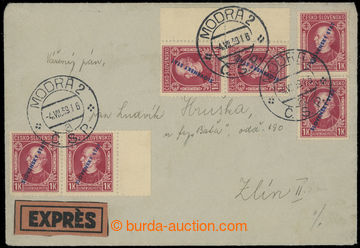 1939 Express letter with mixed franking, in front Slovak stamp. Hlinka 1 Koruna with overprint, Sy.24A (6x) + on reverse Czechosl. stamp. Coat of arms 5h, Pof.248 (corner 20-blok!), CDS MODRA 2/ 4.VII.39, arrival postmark ZLÍN/ 5.VII.39 on reverse; mimořádné!
Starting price:
800
CZK
+

0,0 %
U:A5