warning
This auction is archived, you cannot bid or buy items from this auction!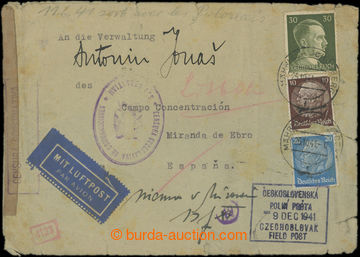 1941
airmail letter sent from Sudetenland to Spanish frankistického concentration camp Miranda de Ebro (where was/were vězněno much Czechosl. vlastenců, which/what with chtěli dostat through/over Spain, Gibraltar to England, i.a. also pilot RAF F. Fajtl), with 10 and 20Pf Hindenburg + 30Pf A. Hitler, CDS MÄRISCH SCHÖNBERG/ 25.10.41, Us German and Spanish censorship, oval pmk censorship SAN SEBASTIAN, on reverse arrival postmark MIRANDA DE EBRO/ 6.Nov.41, several by hand written notices i.a. name Anthony Jonas, Lisbon etc.., consequently supplemented with arrival frame cancel. CZECHOSL. FIELD POST/ 9.Dec.1941 on both sides; open from 3 sides, tearing in margins, signs of usage, after all quite unique document/attribut!
Starting price:
5 000
CZK
+

70,0 %
U:A5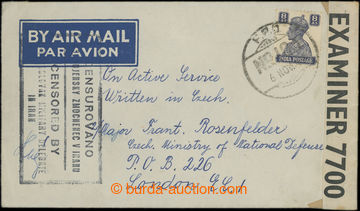 1943 airmail letter sent via Brit. field post to London on/for major. Francis Rosenfeldera (působil in Czechosl jednotkách in France, V. Britain also USSR) on/for Department of Defense Czechosl. exile governance, franked with. Indian stamp. 8AS, CDS F.P.O. No.103/ 6. Nov.43, supplemented with frame cancel. "CENSUROVANO/ CZECHOSL. VOJENSKY ZMOCNENEC V IRANU" with signature, Us Brit. censorship; good condition, quite unique entire with superb print Czechosl. censor's postmark!
Starting price:
3 000
CZK
+

0,0 %
U:A5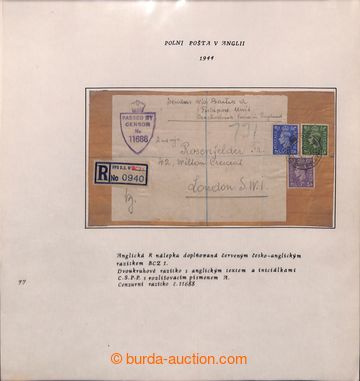 1940-1945 [COLLECTIONS] exhibit CZECHOSL. FIELD POST VE FRANCII A ENGLAND collection 74 pcs of entires on album sheets with descriptions, contains mainly philatelically motivated envelope/-s and cards with commemorative postmarks Czechosl FP in France 8 pcs of and England 60 pcs of, cards, Un letters and postcard, commemorative sheets with special postmark, from that more than 14 pcs of really Us letters, from nichž major-part is sent to major. Francis Rosenfeldera, part cards with his signature, from various destinations as Iraq, Bahamy, USA, Canada, contains also Reg letter sent from Keni sent to minister John Masaryk; mainly very good condition
Starting price:
4 000
CZK
+

62,5 %
U:K