warning
This auction is archived, you cannot bid or buy items from this auction!

info
Online Auction 64
is currently running, you can find items like this there and bid on them!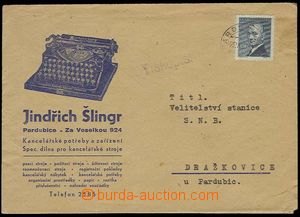 1945 - 48 3 pcs of Us advertising envelopes, additional printing firm J.Šlingr Pardubice - typewriters, A.J.Andres Ústí n. O.. - liqueurs, F.Philipp Děčín n.L. - furniture (original German additional printing). Without damage.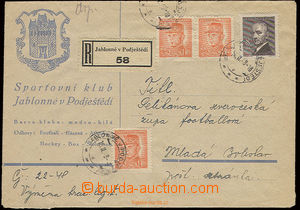 1948
Reg letter with additional-printing Sporting club Jablonné v./P., CDS from 16.II.48., addressed to to Ml. Boleslav - on reverse provisional railway-station postmark Mladá Boleslav Without damage.