warning
This auction is archived, you cannot bid or buy items from this auction!

info
Public Auction 66
is currently running, you can find items like this there and bid on them!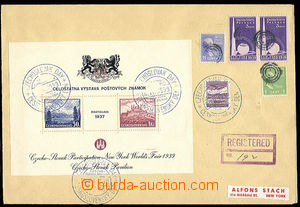 1939
USA Reg letter franked with. i.a. miniature sheet Pof.329/30 with additional-printing to World exhibition in New York 1939 (black) with exhibition postmark Czechoslovak Day 6.VII.1939 and American stamps in value 18c, dumb postmark, on reverse transit. and arrival postmark., recipient A. Stach, good condition.