warning
This auction is archived, you cannot bid or buy items from this auction!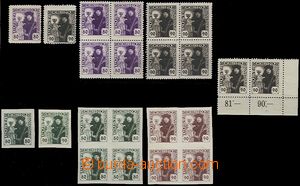 Pof.162-163, selection of basic stamp. as blk-of-4, 10 pcs of PLATE PROOF on stamp paper with gum from that 2x block of four in/at green (80h) and brown (90h) color, exp. by Gilbert.., 1x corner Pr with Pl 2 (hinged), c.v.. 1200CZK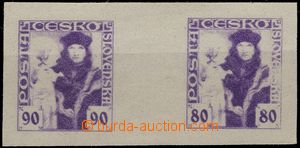 trial print 90h + 80h in violet color from joined printing on white paper without gum, exp. by Karasek.., c.v.. 800CZK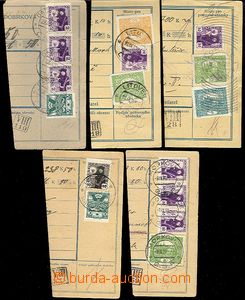 1920 comp. 5 pcs of parcel dispatch card segments with various mixed frankings stamps Hussite-issue and other, good condition
Mail Auction 18 / Philately / Czechoslovakia 1918-1939 / Hussite Issue 1920 - Information
1.6. 1920 Husita.
Autorem poštovních známek s obrazem husitského kněze s kalichem je Alfons Mucha.
Byly vydány pouze 2 hodnoty, 80 h v barvě fialové a 90 h v černé, známky vytiskla opět Česká grafická Unie v Praze, tentokrát hlubotiskem (HT). Pro známky 80 h byla zhotovena pouze 1 tisková forma (TF) se čtyřmi stokusovými deskami, pro hodnotu 90 h byly zhotoveny 2 TF o dvou stoznámkových deskách ve dvou variantách: vedle sebe, kterou byla vytištěna většina známek a pod sebou protisměrně, ze které byl vytištěn jen malý počet listů. Známky byly vydány na bílém, výjimečně na nažloutlém papíru, s bílým až nažloutlý lepem, s řádkovým zoubkováním ŘZ 13¾. U obou hodnot se vyskytuje řada barevných odstínů. Vzácně se vyskytují vodorovná i svislá meziarší obou hodnot na makulaturním papíru.
Protože motiv známek nevyhovoval jedné z tehdejších velkých politických stran, nebyly poštovní známky Husita Hospodářskou ústřednou v Praze přidělovány do mnoha krajů v republice a přesto že byly vydány v poměrně značném množství (od každé hodnoty přes 4 mil. kusů), byly staženy z oběhu. Jejich platnost skončila 30.4.1921, u filatelistické přepážky na hlavní poště v Praze zůstaly ale v prodeji až do roku 1935.