warning
This auction is archived, you cannot bid or buy items from this auction!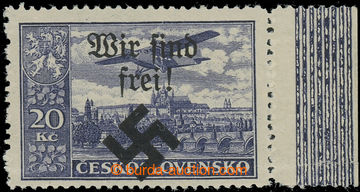 1939 MÄHRISCH OSTRAU / Mi.27A, air 20CZK with overprint "WIR SIND FREI"; light original bend lower (various minor gum fault and folds in gum etc.. are in this issue usual), otherwise very nice marginal piece, exp. Osper, Boczek, certificate Brunel, c.v.. 900€++, rare stamp!
Starting price:
8 000
CZK
+

37,5 %
U:A5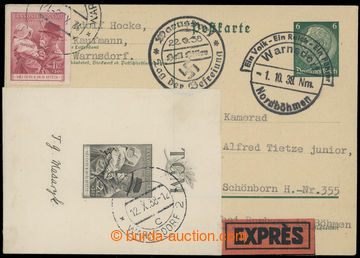 1938 German PC sent as express from Varnsdorf to Studánky, uprated by. miniature sheet For Children-issue 1938 (!), Pof.A335 and stamp. 1CZK Pof.334, p.stat cancelled propagandistic rubber cancel. WARNSDORF / Ein Volk - Ein Reich - Ein Führer/ 1.10.38, Czechosl. stamp. cancelled broken out CDS WARNSDORF 12.X.38; good condition, philatelically motivated entire, after all rare used příplatkového miniature sheet!
Starting price:
800
CZK
+

37,5 %
U:A5
Public Auction 67 / Philately / Occupations - Information
V této kategorii zařazujeme položky poštovní historie z období 1938 a dělíme jej na Německý zábor - Sudety, Polský zábor a Maďarský zábor na Slovensku.